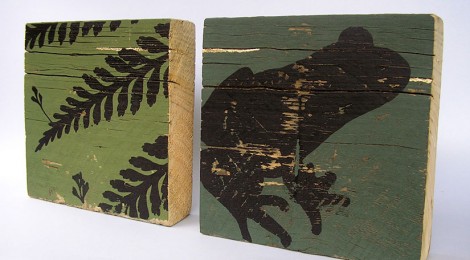 The Coromandel Ranges contain a lot of gold which has been vigorously pursued in the past. Not much respect for the mountains and the natural environment was in this activity, and to this day we witness the legacy of destruction left behind.
Other activities are practised in an explotive way on the land today, as conventional farming or radiata pine forestation. Like with mining in the past, the way this is done is controversial in regards to the integrity of the environment.
The "Coromandel What We Treasure" series features 8 pairs of wildlife icons, all at home on the Coromandel Peninsula. The brightly coloured backgrounds and silhouetted contrasting images are individually hand screen printed onto segments of local recycled timber. These prints are based on the artist's original drawings.
Viewing the layers of wood in the blocks from the side is like looking at a cross section from a geological study of a gold rich area. But gold isn't the only thing to be treasured. There is a growing trend to appreciate and indentify with what makes this country unique. More sustainable approaches to making a living in this environment are found, often making it the positive focus of activity.
This series of highly decorative iconic pairs celebrates New Zealands new heroes, and proclaims the dignity of the Coromandel Ranges in a positive way.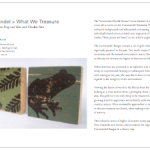 > Download infosheet PDF