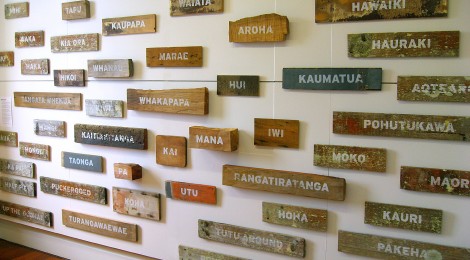 Words of Ours/Ngā Kupu E Rangona Ai explores some of the many linguistic and cultural cross-overs from te reo Maori into mainstream English which enrich our everyday language and define us as Kiwis. New Zealand English is very distinctive, largely because of these borrowings from te reo – estimated by linguists to be six words in every thousand.
English has always borrowed freely from other languages and continues to do so. In New Zealand history we have seen several distinct periods of borrowings between English and Maori. the latest wave of borrowings from te reo Maori through the 1970's and 1980's the emphasis has been on words to do with the social culture of Maoridom – on roles, relationships and concepts such as kaumatua, kuia and kaitiakitanga. Some culturally specific words like hui, taonga and whanau are now freely used in English (with varied shades of meaning) outside of their Maori-specific context, as are mana, kaupapa and aroha.
Here some of these 'words of ours' have been screen-printed onto boards made from different types of found timber – kauri, rimu, totara,black maire and pine –relating to the word's significance. While many of the words stand for powerful concepts; others are more descriptive or even light hearted.
As an 'outsider' Kirsch has immensely valued the opportunity to study te reo and begin to explore some of the richness of Maori language and culture. In this installation of Maori words used in everyday New Zealand English he challenges us to revisit the deeper meanings of the words, while at the same time delighting in the uniqueness they bestow on Kiwi English.
I'm particularly pleased that the work has come to Rotorua as for me it is a place where our country's two predominant cultures both have a strong presence, influence and inspire one another in the very way that I find so fascinating" says Kirsch. 'Elements of a totally different Pacific background find their way into a previously purely European-informed society, and introduce a sense of richness to New Zealand culture unlike any other country in the world. We can discover unique approaches and alternatives to dated, fixed ways, and in a sense this can go both ways."
"With my mono-cultural background, it's exciting to think about the potential that the coming together of two rich cultures offers."
> further reading about the subject
———
Words of Ours/Ngā Kupu e Rangona Ai, original installation of 51 words, approximately 7 x 3 meters, acrylic on found wood, 2012 Daniel M. Kirsch > enquire about availability and price
Words of Ours/Ngā Kupu e Rangona Ai, individual kupu (word) prints > enquire about availability and price