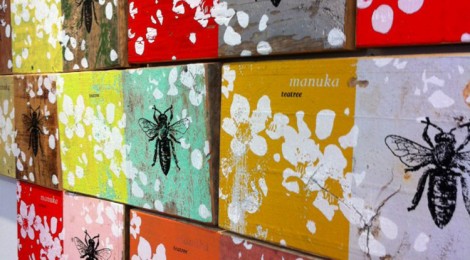 HAPA Gallery have hosted an art installation by Daniel Kirsch at their store in the Re:Start container mall in the CBD of Christchurch, with $5 proceeds from each sale of a Kirsch's Re-Start Bee Print to go to the New Brighton project in Christchurch.
The exhibition has just finished and Daniel and the gallery have made a donation to the  project. While it's not a lot on the greater scale, each little bit helps in the re-building of the city so heavily struck by the recent series of earthquakes.
Daniel, and the gallery owners Yuri and Maureen all have ties to the New Brighton area through friends and whanau so this particular project was an easy choice for them as recipient – the guys there have been doing amazing things in the area with the markets, festivals and newsletters.